Dear customer, Dear Partner,
ACTIS Computer is pleased to introduce its new redesigned website offering a more optimized navigation interface and a lot of new features as described below.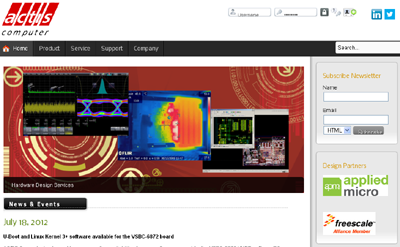 COTS Product Description
All products have a detailed description with highlighted features and the links to the associated technical literature.

More

Custom design services
For specific hardware designs, our custom services are available for user's requiring an optimized solution either for a semi-custom or full-custom project.

More


On-line quotation request
For commercial inquiries, you can contact either our Partners or use the on-line quote request form available on each product description page.

More

Literature library
A large set of documentation is available including technical datasheet, user's guide, application notes and white papers.
An on-line registration may be required for a complete access to the literature library.

More

Technical support request
For technical issues, an on-line request form is available for assistance about both hardware and software related inquiries.

More

On-line search engine
For an easier navigation, the embedded search engine is available to find accurate information including products, services and documentation contents.

More
Please feel free to contact us for further information related to this new website introduction.

Sincerely,
Your ACTIS Computer Team