Dear Partner,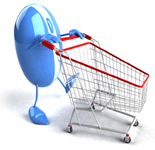 ACTIS Computer is pleased to announce a new service that will give you an easy access to our products: a new online shop available directly on our web site worldwide.
Today, many users are taking advantage of Internet to download manuals, drivers, or to communicate with our support department. Now it will be also possible to place order for prototyping or to complement an order with additional parts.
Of course for larger orders, it is also possible to contact us for a quotation with scheduled delivery or specific features not available on our online selection.
In addition to our embedded solutions based on VME, CPCI, PMC and COM Express boards, you will find new products like mini PCIe modules. If you are looking for a specific product, don't hesitate to contact our customization service at the following address: custom@actis-computer.com
We like to hear from you soon, but in the mean time you can get an idea of our online shop by going at shop.actis-computer.com
Best regards,
Your ACTIS team



We are supporting a large choice of payment methods including credit cards, Paypal and wire transfer.

DHL Express is used as the default carrier for the international and national deliveries. On-line notification and tracking are available for an accurate shipment location.

Sincerely,
Your ACTIS Computer Team